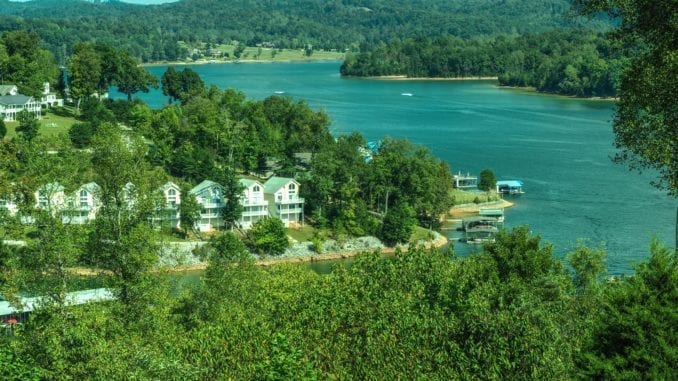 ---
---
Along the 800 miles of shoreline, there are two state wildlife management areas, three state parks, boat docks, county parks, and public access areas. Norris extends 56 miles up the Powell River and 72 miles up the Clinch River. The lake has a surface area of more than 34,000 acres and over 800 miles of shoreline.
>> Search Real Estate listings
Located in an area of ridges and valleys, its abounds in secluded coves. In some of these wooded coves-Cove Lake, Big Ridge and the area around Norris Dam-TVA established demonstration public parks, which later became the nucleus of Tennessee's state park system.
The first dam built by the Tennessee Valley Authority created Norris Lake. A hydroelectric dam whose construction was completed in 1936. The dam is 265 feet high and 1,860 feet long. It contains a million cubic yards of concrete. Three years later, its completion helped moderate the disastrous Ohio and Mississippi River flood of 1937. The giant drum gates at the top of the spillway were raised for the first time to impound waters that would have swelled a flood more than 600 miles away. Norris has the largest flood control storage of any TVA dam on a tributary of the Tennessee 1,473,000-acre feet.
TVA originally acquired a broad strip of shoreline around Norris Lake. Today, 56,700 acres (23,000 hectares) have been sold and another 35,300 acres (14,300 hectares) transferred to the State of Tennessee and various counties for recreation. TVA has retained a continuous shoreline strip of about 22,000 acres (9,000 hectares) of some of the most beautiful land in Tennessee for future recreational development.
Famous for striped bass or rockfish, Norris Lake is well known to anglers for its trophy-size bass and walleye-as well as beautiful catches of black crappie. Clear, deep water produces excellent catches of rockfish, walleye, and bass, as well as the usual species found in other area lakes. June through September night fishing for smallmouth bass, crappie, white bass, and walleye is a popular activity.
Largemouth, (May-June) uses light tackles and fish deep. Smallmouth, (April-May), (Jan-Feb) fishing live bait off points. Crappie (Late April-May) near fish attractors. Walleye (Feb.-March) in the headwaters, sometimes at night in the summer trolling in the lake. Catfish, (spring and summer), Stripers (April-May) can be caught through the summer fishing live bait in open water. State record at 49 &#frac12; lbs. From Norris in 1978. Bluegill, (Spring-through Fall)
The 13-mile stretch of the Clinch River below Norris Dam is a scenic float trip and a renowned trout stream. This stretch of river extends to the Eagle Bend Fish Hatchery, a 100-acre complex operated by the Tennessee Wildlife Resource Agency, located at Clinton.
On the wooded banks of Norris TVA established the first demonstration public parks, later the parks were turned over to the State of Tennessee. Recreational use of the reservoir exceeds that of any other tributary lake. The State administers two large game management areas, three state parks and 59 public access areas. There area three county parks.
Two small wild areas on Norris Lake provide the visitors with a mini "wilderness experience". . The Norris reservation has three hiking trails. River Bluff trail is the longest at 3.1 miles and features spring and summer wildflowers and a 3-mile hiking trail. The Edge Path is shady corridor with wheelchair access. The Songbird Trail lives up to its name and is a popular area for birding.
Boat Docks, Watercraft Rentals, and Campgrounds on Norris Lake
Boating
Norris Lake offers 700 miles of shoreline. Norris Lake offers the ultimate in water sports, include boating, water skiing, swimming, and excellent fishing in many coves and inlets on the 34,000-acre lake. Scenic float trips originate just below the weir. Boat docks and launching ramps are located at various sites on the lake.
TVA Loyston Point Campground
Andersonville Boat Dock & Marina
408 Dock Road
Andersonville, TN 37705
Hickory Star Campground and Marina
1360 Hickory Star Road
maynardville, TN 37807
Powell Valley Resort
Rt. 1 Box 287
LaFollette, TN 37766
Indian River Marina
740 Indian River Boat Dock Road
Jacksboro, TN 37757
Sequoyah Lodge and Marina
336 Lake View Lane
Andersonville, TN 37705
Norris Dam Marina
1604 Norris Highway
Lake City, TN 37769
Stardust Resort and Marina
149 Stardust Lane
Andersonville, TN
Straight Creek Dock
775 Straight Creek Road
New Tazewell, TN 37825
Mountain Lake Marina and Campground
136 Campground Road
lake City, TN
Camping
The Park has two camping areas with 25 sites in the east section and 50 sites in the west section of the park. Sites have tables, grills, and electrical and water hookups, while some sites in the primitive section lack these facilities. Modern bathhouses and dump stations are provided, and a Laundromat is located near the park Village Green Complex adjacent to the pool and recreation center. Sites are available only on a first-come, first serve basis, and maximum stay limit is limit is two weeks. A primitive camping area is available to scout and other youth groups by reservation only.
Mountain Lake Marina and Campground
225 Dock Lane
Lake City, TN 37769
Cedar Grove Marina and Campground
136 Campground Road
New Tazewell, TN 37824